Woman's Health Centers – Oviedo Women's OGBYN Health Clinic
Oviedo Woman's Health Center
HOURS
Monday – Friday :
8:00am / 5:00pm
Address
2078 Winter Springs Blvd, Oviedo, FL 32765.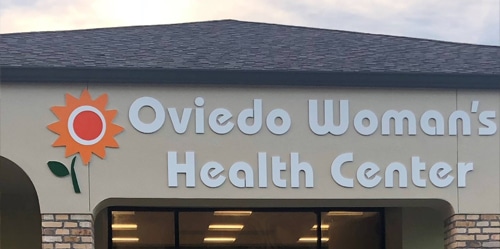 Woman's Health Centers is a one stop shop for women's health.
Start Scheduling Your Appointment
About Our Oviedo, FL Location

At the Woman's Health Centers in Oviedo, Florida, we are committed to providing our patients with a one-stop shop for their health. Whatever it is that you may need help with related to women's health, we are here for you. Our Oviedo, Florida team of physicians specialize in all areas of women's health and wellness. In addition to being board-certified, our women's healthcare professionals are also instructors at the University of Central Florida Medical School. The commitment of our physicians also extends to being actively involved in several professional boards as well as writing key research in the areas in which we specialize. Such activities ensure that our physicians stay abreast of any relevant research that might impact the health of our patients. From our expert physicians to our office staff, we ensure that you'll have a pleasant experience with Woman's Health Centers.

Our comprehensive range of Oviedo, Florida services is designed to provide our patients with premier healthcare by preventing, diagnosing, and treating women's health issues. We provide services in three critical areas: Obstetrics, Urogynecology, and Gynecology.
Obstetrical Care
We are dedicated to providing our Oviedo, Florida patients and their babies with the highest level of quality care. This includes offering advice prior to conception to assist you in mitigating any potential risk while providing you with the opportunity for a healthy pregnancy. Along with routine exams and visits, our Oviedo FL office also provides genetic screenings, ultrasounds, and screenings for pregnancy-related conditions, such as preeclampsia.
Our obstetrical services include:
3D/4D ultrasound
Family planning and birth control
Preconception checkup
Postnatal care
Postpartum care
Whether you are planning to become pregnant, have recently discovered you are pregnant, or you are interested in discussing birth control and family planning options, our OB GYN team is here to work with you one-on-one.
Gynecology Services in Oviedo, Florida
We are pleased to provide gynecological services for patients of all age ranges, from pre-teens to post-menopausal patients. As part of offering annual exams for preventing, diagnosing, and treating conditions, our OB/GYN team works closely with each patient to ensure she has relevant information in order to make the most informed healthcare decisions. This information includes education on sexually transmitted diseases, birth control options, infertility, dysfunctional bleeding, and any other gynecological health concerns you might have. We are dedicated to working with our patients through each phase of life. If you are looking for an Oviedo FL OB/GYN, don't hesitate to call us today.
Our office provides treatment and information related to:
Ovarian cysts
Management of abnormal pap smears
Contraception management
Pelvic pain treatment
Endometriosis treatment
Treatment of STDs and infections
Pelvic organ prolapse
Treatment of female genital sores
Menopausal management
Postmenopausal bleeding
Permanent birth control
D&C with hysteroscopy
Pelvic floor reconstruction
3D/4D ultrasound
Urology Services in Oviedo, Florida
Our Woman's Health Centers services in Oviedo also include the diagnosis and treatment of pelvic pain and urinary incontinence. In fact, our physicians specialize in treatment issues related to gynecology urology. With experience in minimally invasive and non-invasive surgery, cystoscopy procedures, robotic surgery, and physical therapy, we are able to provide our patients with comprehensive care for treating an extensive array of women's health conditions and urologic diseases. This includes treatment of the kidneys and bladder, bladder-control problems, and incontinence.
Thanks to the experience and training of our urologists, they are able to treat such issues as:
Painful intercourse
Vaginal septum
Overactive bladder
Female genital prolapse
Recurrent urinary tract infections
Urinary incontinence
Get in Touch with Us
We invite you to contact us at our Oviedo, Florida 32765 clinic with any questions you might have about our services.
Woman's Health Centers is a one stop shop for women's health.
Anything and everything that you need help with, we're here for you.